Easter – A Renewal of Faith, a Revival of Hope, and a
Resurrection
of Joy
- all because of Jesus! >>
What is Lent? and Why should I observe it? Lent is a period of fasting, moderation, consecration, and self-denial. It begins with Ash Wednesday and ends with Easter Sunday.  Lent began as a way to remind Christians of the value of repentance. Read more >
Tuesday Bible Study News.  This Lenten Season, the Tuesday Bible Study Group will be reflecting on the words and ways of Jesus as presented in the book "The Way – Walking in the Footsteps of Jesus" by Adam Hamilton. The study format includes a video presentation and Bible discussion including historical background, archaeological findings, and stories of the Faith during Jesus' ministry here on earth. Join us in the Church Kitchen at 11:30 a.m.  Watch Video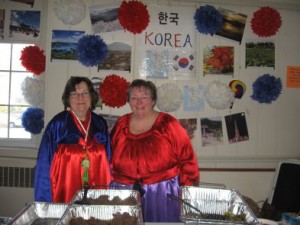 Marilyn Glover and Sue Bowdridge (picture shown) represent the Korean Table during the 30th Annual International Food Fair in Swampscott, MA. on February 1, 2014. This event is sponsored by The First Church of Swampscott and all proceeds go to Habitat for Humanity North Shore and International Group. Photo by Janet Fischer
New Adult Bible Study Group will begin on Tuesday, February 11 at 7:00 to 8:30 p.m. in the Church Parlor.  Each week adults are invited to gather for informal worship. bible study, and prayer.  For more information please speak with John Nowak or Rev. Martha Dominy.
Love Gift in honor or in memory of a loved one.  Proceeds will assist the total program of the American Baptist Churches including the International and National mission work. Please give generously by February 11, 2014 and your name will be included in Honor roll printed in the church bulletin on February 16, 2014.  Please make checks payable to First Baptist Church, Malden.
Our Story
Our church's history is built on the individual member's past accounts relating to our church where fellowship and Christian service abounds. It is important to keep a record of what really happened, not in general terms, but in a more personal experience.
They could be big contribution or trivial service for the cause of Christ, yet they're all worth keeping and, therefore, considered part of our Church's history. Would you be part in building our Church History?  Tell your stories so the present and future generation can learn from them.  Go to Our Story Page.
What Was It Like Then in 1803?  In 1803,  the world was a different place.   There was no Google yet.  Or Yahoo.   Or The Witness Mail and the Internet. Remember,  that was before there were Movies and TV's.  No Computers, iPads, and Smart Phones.  No NBA yet as James Naismith invented basketball only in 1891.  Baseball was played regularly on Saturdays in New York not until the year 1823.  Professional U.S. Football was only played in 1892. more >.
Worship  Time and Venue .  Worship service starts at 11:00 a.m. in the Church Sanctuary .  Sunday school classes start with Moments with the children during the worship hour.  Nursery care is available for infants and toddlers in the air-conditioned Nursery.
Tuesday Bible Study will resume on January, 2014 in the heated church Parlor at 11:30 a.m.  Everyone is invited to join. Church address:  493 Main St., Malden, Massachusetts 02148-5107. Get Direction
WORK DAY is on Saturday, April 26 at 9:00 a.m. to 1:00 p.m.
SPECIAL CONGREGATIONAL BUSINESS MEETING on Sunday, May 17 at 12:00 noon

Mae Upperman is Layperson of the Year 2013
FBC provides lunch to Volunteers of Habitat for Humanity on November 16, 2013

What is Operation Clothesline? See Church Bulletin
Stewardship Campaign Open Letter to Church Members and Friends from Finance Trustees 2013. Thanksgiving Ingathering Set on November 24, 2013.